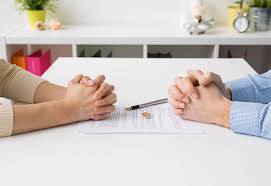 So you're divorcing… what will you do with the house?
One or the other of you may be awarded the house in your divorce decree, but unless that spouse is the only person named on the mortgage loan documents, you'll still be jointly responsible for the payments.
The truth is, banks don't really care what the court says. If your signature is on the loan documents, you're liable.
In other words, your financial lives will still be tied together until you sell the house.
That may be fine with you, but if it would be better for your emotional and financial well-being to sell the house, please call me.
I'll be happy to tell you how I work with divorcing couples to make the real estate sales process as easy as possible for both of you.
And… I'll be happy to meet with each of you separately if you so desire.
If you have not already determined the value of the house in today's market, I'll also be happy to prepare a no-obligation market analysis.